Why you may require a grease trap
The impact of Fats, Oils and Grease (FOG) on a drainage system can be severe to commercial kitchens, food processing facilities and downstream infrastructure. FOG can enter drainage systems via sinks, dishwashers and drainage outlets and, if not disposed of/treated correctly, can accumulate. This can result in odours, compromised hygiene, reduced pipework efficiency and cause pipe blockages.
Furthermore, it can have severe effects on sewer infrastructure and wastewater treatment plants and may cause surcharge and environmental watercourse pollution. Blockages can cause serious community Health Risks.
Just have a look at this case that occurred in March 2016 in the UK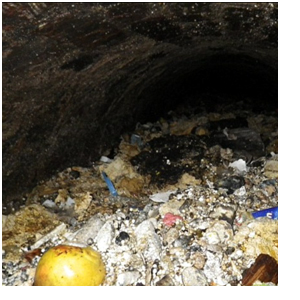 During March in Durham (UK), a 30-yard-long 'fatberg' (slang – large-scale accumulation of fat, oil and grease) was found congealed in a sewage pipe that lay beneath a main road.
The pipe had collapsed a week before due to the immense weight of a local business discarding their excess fat in residents' drains for several years.
A spokesman form Northumbria Water said: "sewers and drains are designed to carry rain, water, pee, poo, and toilet paper and shouldn't be used for anything else".
"Fat can solidify and block. Fat should be disposed of in the correct way, it should be collected and put in a bin or disposed of in the correct place – which is not sewers or drains"."
Due to this illegal and polluting method of disposal, local residents can expect the street to be closed for up to two weeks while reparations are made. During this time, the blocked pipe poses a flood risk to the surrounding neighbourhood.
How does this apply to Australia?
Local councils and water authorities within Australia also require you to have grease traps installed in all commercial and food processing facilities, for the protection of local sewer infrastructure.
The Australian Standard, AS 4494: Discharge or commercial and liquid industrial waste to sewer, states that the receiving water authority has the power to regulate the use and design of grease traps in their jurisdiction.
Local Water authorities have specific regional requirements. They recommend the size of the grease trap, the total volume of wastewater to be held in retention and approve the installation of the grease trap.
To ensure the longevity of the installation, water authorities require additional design requirements.
ACO currently holds approvals with:
Sydney Water
Queensland Urban Utilities
Unity Water
Power and Water Corporation
Water Corporation
ACTEW
Gold Coast Water
ACO also holds council approvals in Redlands Shire Council as well as Logan City Council, and are working on various other councils.
Lack of compliance may result in legal ramifications for the designer and business owner.
ACO's range of grease traps are designed and manufactured in Europe in accordance with EN 1825: Grease Traps. ACO Australia believes that this is the most appropriate internationally recognised performance based standard.
How does our grease separation process work?
Our gravity grease traps are able to separate FOG from other materials by working with the laws of gravity and the principle of differential density; where FOG is less dense than water and floats, while food solids are more dense and sink.
You will find within a grease trap 3 layers that relate to the density of different material
Top – FOG (less dense than water)
Middle – Water
Bottom – Food Solids (more dense than water)\
Wastewater enters the grease trap and sits for a time period allowing the contaminants to sink or float. Treated water is then discharged leaving only FOG and sludge.
Places you will most likely require a grease trap are:
Hotels
Restaurants
Hospital Kitchens
Cafeterias
Food courts
Canteens
Butchers
Meat processing facilities
Food preserving factories
Ready-made meal producers
If you are looking to specifically manage the separation of stable emulsions and starch waste products: Contact ACO for further information.
ACO provides a range of below and above ground grease traps that are designed to cater for various applications. The below ground Grease traps are purposefully engineered for load bearing applications.
When selecting a grease trap, there are four things you must take into consideration:
The location of existing pipework
The available space for the grease trap
Building and construction constraints
Ease of access for waste disposal and maintenance
This will influence your decision of using an above ground or a below ground grease trap.
When selecting a product you also want to be aware that what you are buying will not only do the job, but is also easy to use, structurally sound, and pass regulation specifications. Here is an outline of four key indicators that ACO's products all meet.
Construction materials – While other grease traps are made from glass reinforced concrete or cement concrete, our trap bodies are made from rotational moulded polyethylene. Other products present health and structural risks, require re-lining, and can be difficult to maintain, while rotational moulded polyethylene does not. It is a lightweight, flexible and robust material that facilitates handling and installation. It does not require lining, is suitable for installation in both acidic and alkaline soils, is durable, and has excellent chemical and corrosion resistant properties.
Regulations – As cited above, there are local and international regulations that govern the specification of below and above ground grease traps.
Access for maintenance – ACO's range of grease traps are designed with dedicated access points for regular servicing and maintenance.
Buoyancy – ACO's Lipumax grease traps are specifically engineered for below ground installations and are engineered with features to avoid buoyancy.
Maintenance
Critical for the ongoing efficiency of the grease trap is regular cleaning and a disposal procedure. A specialist waste management contractor is recommended and their service frequency is to be stipulated by the local water authority (which will be determined by the volume of FOG coming through).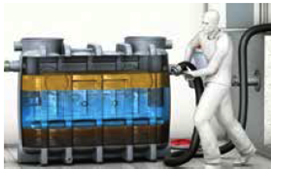 Before any waste disposal and of the grease trap is undertaken, kitchen operations must be stopped and the entire contents of the grease trap must be removed via the maintenance opening(s) with a suction hose to the disposal truck. Once this is done, using a high-pressure hose, you must remove all the residual FOG from the inside walls of the grease trap. Be advised that scraping may also be required and that all cleaning water must be removed from the grease trap. Finally, the grease trap must be filled with water to two thirds of the volume of the trap from an on-site water supply.
An operation logbook should be maintained incompliance with the local water authority requirements and include:
Completed inspections
Maintenance work
Disposal service history
ACO Support Services
ACO's Technical Services department offers obligation free advice to ensure the correct product is chosen. Extensive research and development, both independently and in conjunction with leading academic institutions and research bodies, is the cornerstone of ACO's success.
Revit and DWG file extension formats are available to assist planning, specification and installation.